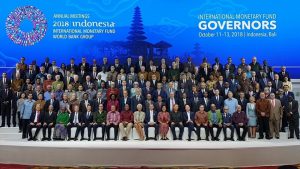 The Bank of Thailand Governor Veerathai Santiprabhob attended the IMF-WBG Annual Meetings 2018 in Bali, Indonesia, during the period of 10-14 October 2018. The topics of discussion highlighted the importance of open multilateral trade system, the need to rebuild policy space during the economic upcycle to raise growth potential and resilience, as well as an agenda to take advantage of technology, especially Fintech, to reduce inequality and promote more inclusive growth.
In addition to official meetings, on 11 October 2018, Governor Veerathai also joined the ADB-BI-AMRO High Level Policy Dialogue on Regional Cooperation to Support Innovation, Inclusion and Stability in Asia.
Governor Veerathai was invited for a special interview session, Governor Talks, with the IMF-Asia and Pacific Department Director Mr Changyong Rhee, on 12 October 2018, on the topic: "Thailand : Managing Monetary Policy Normalization".
Governor Veerathai also participated in the Per Jacobsson Panel, together with 3 other governors and managing director of Bank Indonesia, Bank Negara Malaysia, and Monetary Authority of Singapore, on 13 October 2018. The discussion focused on the topic "Is There a New Orthodoxy for Monetary Policy?"